I'm sure you've all seen them; the brightly coloured, kitsch, square little backpacks with the distinctive fox logo embroidered on the front. Yes, I'm talking about the Fjällräven Kånken backpacks. Now, I've been considering purchasing one of these backpacks for a while because day-to-day I like to use a backpack. I also said that this year I would carry my camera around with me more often. So this is what set me off looking for a comfortable yet stylish backpack that I could use every day. The trouble is, backpacks tend to come in two kinds; useful and ugly or pretty and impractical (except Knomo bags, but that's another blog post). So, I turned to the stylish and practical Kånken.
Unpacking the pack
I've enviously eyed up many a Kånken backpack that has mosied past me as I've mooched about Manchester. But, I've never bought one as 80-odd quid seems a bit steep for what is essentially a square with straps. However, I got fed up with choosing between my cute little Knomo backpack, and my very un-sexy but practical Karrimor hiking backpack. I finally bit the bullet and bought a Kånken in the January sales. After searching through umpteen sites, I found an online outdoor shop selling a lovely blue one for about £40. I clicked pay and went to collect it about a week later.
Once home, I was excited to unwrap it and see how much of my everyday junk I could cram into it. The answer is; a lot. I can fit everything from my handbag in it, as well as a few extras. The only thing it is lacking is pockets. I'm an anal organiser and I LOVE pockets. The Kånken is sadly just one big, cavern with a token small pocket sewn on the front.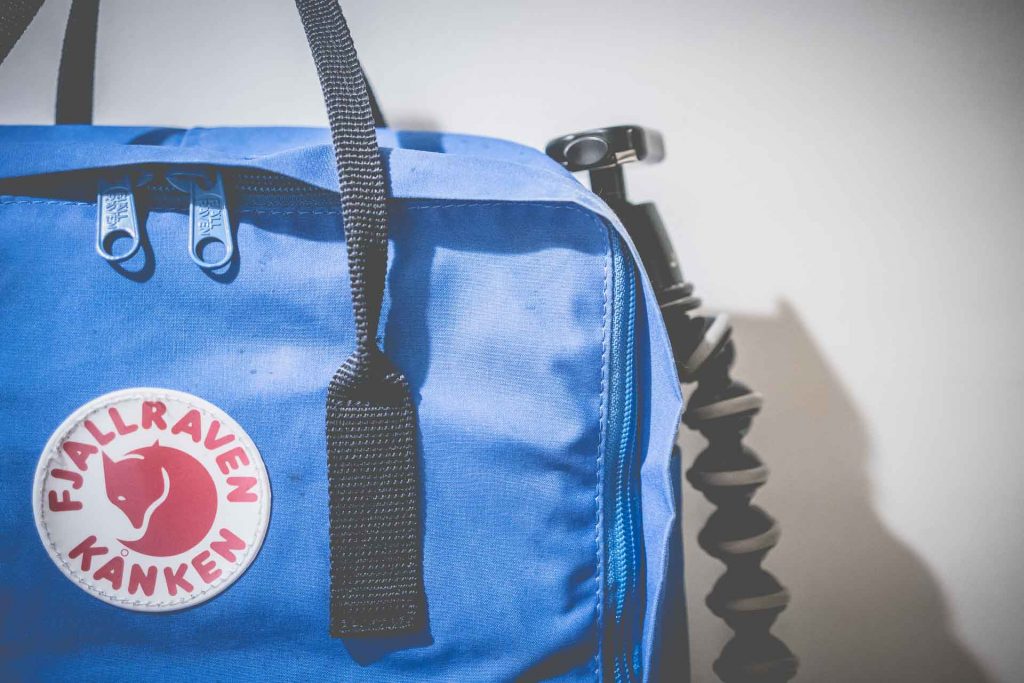 So, as the main reason I bought this bag was to carry my camera around with me every day, the lack of internal organisation was going to be a problem. How could I make this bag suitable for transporting expensive camera gear? My solution; wrap my camera in an old woolly hat. Inelegant, but it did the job. Sort of.
As if by magic…
About a week after I bought my bag, and as if by magic, a little internet ad popped up for the Kånken photo insert (Google is really creepy don't ya think?). Perfect. At £45 a pop this isn't a cheap insert, but when you're carrying around thousands of pounds worth of camera gear, it really isn't that bad. And it's better than wrapping your camera in a hat.
Hey presto my new Kånken is transformed into a camera bag.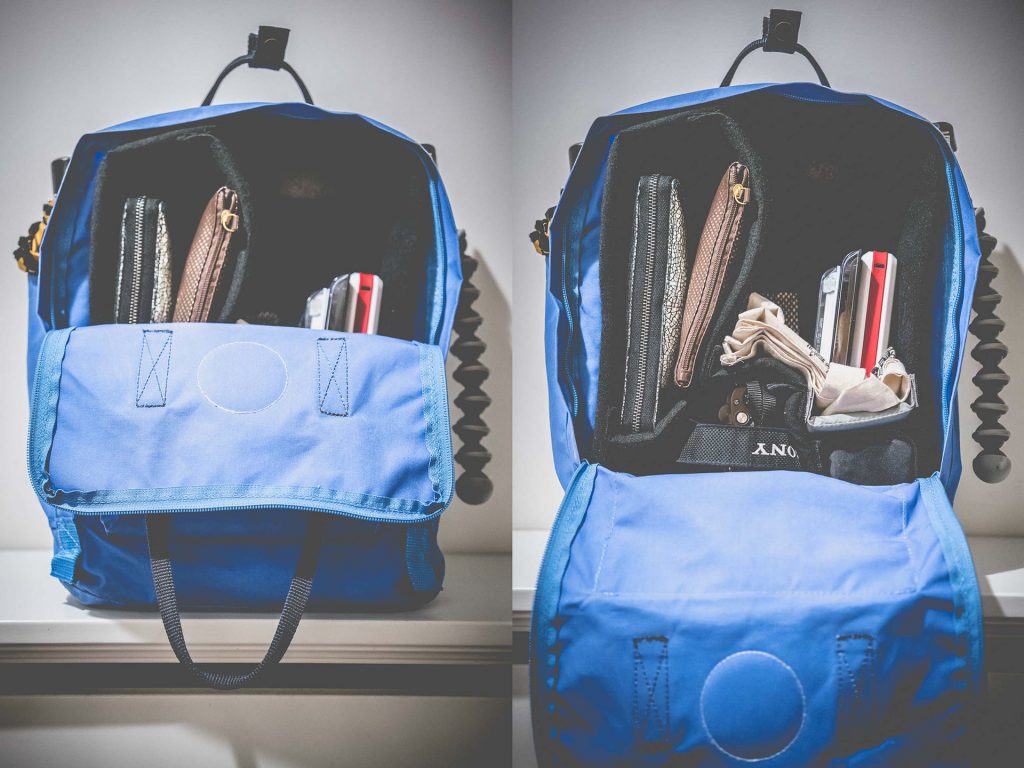 First impressions of the insert are generally good. It fits nicely into the bag and has several internal dividers that allow you to organise your bag how you want. It also comes with a little pouch that is handy for storing memory cards, batteries and other small accessories. However, compared to my Lowepro camera bag, the insert feels very flimsy which worries me, will it be sturdy enough to protect my gear?
The arrangement
It took me a while to arrange the dividers in a way that worked for my camera. My two little Sonys are great, but when bags like these are designed for DSLRs it makes it tricky to properly protect them. The dividers, especially the ones that can bend, are designed with DSLRs in mind and leave too much space around my tiny Sonys. This isn't great, so to rectify the problem I borrowed some dividers from my Lowepro bag to pad it out. Eventually I decided upon this configuration: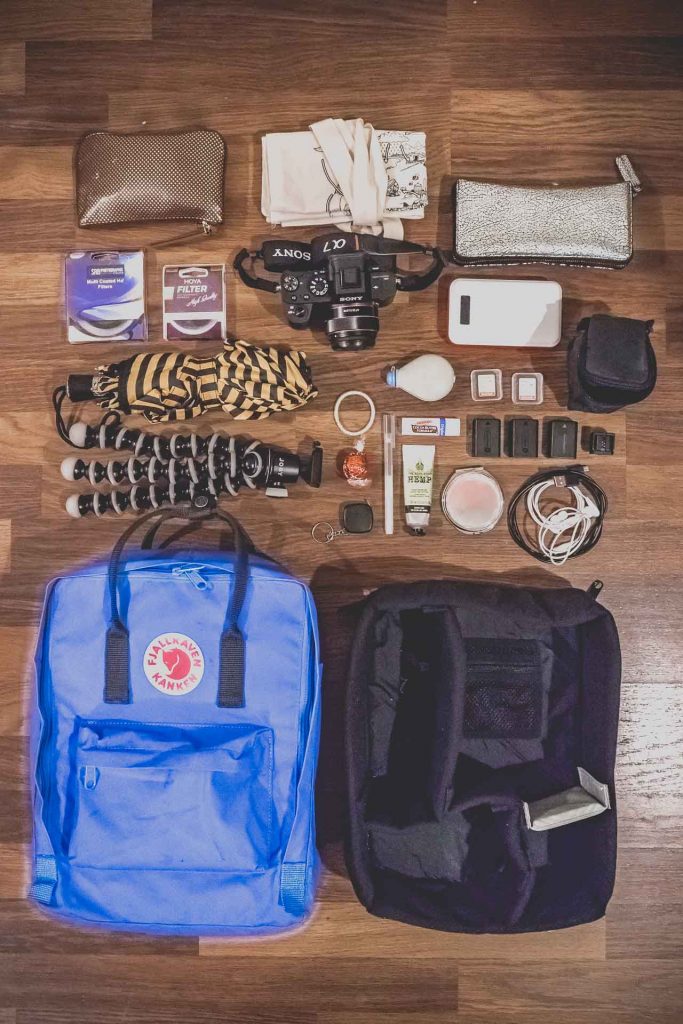 I put my camera at the bottom of my bag, rather than the top (as most people do), as I don't want it to fall out of my bag if I unzip it in a hurry. Plus, as the zips go 80 percent of the way down the side of the bag, there aren't really any access issues.
The rest of the space I divided up to carry my normal essentials; my purse, my notebook, my battery charger, plus I left a bigger space near the top to be able to shove in stuff on the move.
Two months on
I've had this backpack for two months now and I've used it pretty much every day since. For the most part, I am happy with it, it's not perfect, but then again it isn't a specialist camera bag. The pros of the bag are that it's very comfortable and because it's square in shape, it's very easy to fit all sorts of things inside it. It's made from very good quality material which should last a long time (and judging by the number of beaten up Kånken bags you see around, this may well be the case). It looks stylish and is practical.
However, the negatives are that without many internal pockets or gussets, your stuff does tend to rattle around and the photo insert isn't as sturdy or customisable as I had hoped. The photo insert could be improved by reinforcing the dividers and adding extra velcro tabs for better anchorage. I find that things like my notebook tend to slip to the bottom of the bag behind the dividers.
While this setup certainly has its flaws, it is much better than using a nonspecialist backpack to carry your camera in and it looks a lot nicer than many of the photo bag alternatives that are currently available. I would say, if you're a photographer looking to pimp up your Kånken, this is a pretty good way of doing it. Maybe in the future they will improve the photo insert to rectify some of these problems. In any case, I enjoy having a bright and cheerful, practical every-day camera bag.