So, it's happened, I've turned into a blogger and I've been sent something to review. I've been chosen to be the lucky recipient of a Dave 500 hard case from The Case Farm which couldn't have come at a more opportune moment. With all the events and conferences I've been shooting lately it's been a case (geddit) of playing careful Tetris with my usual carry-on suitcase. Not ideal.
I'd started looking at new bags and cases a little while ago but hadn't found anything that really did what I wanted and was affordable. Understandably camera cases are expensive, after all they're protecting expensive equipment, but sometimes you do have to consider your budget carefully – this can make choosing the right gear quite difficult. So, when I was approached to review this case I was interested to see how it stood up against the more expensive competition.
Just in case…
Right, let's get started. My camera kit isn't the largest kit in the world, but it's functional and whilst most of the time I only need a backpack's worth of bodies and lenses, every now and then I find myself needing a suitcase to lump all my gear around. So you know what I'm working with, here is my usual kit:
Sony a7 with FE 28-70mm F3.5-5.6 OSS lens
LA-EA4 35mm Full-Frame A-Mount Adapter
Sigma macro 105mm F2.8 EX DG OS HSM
Sony FE 70-300mm F4.5-5.6 G OSS
Sony a77 with DT 16–50mm F2.8 SSM
Plenty of memory cards, batteries & filters
GorillaPod SLR-Zoom
Occasionally a 'grown up' tripod
One evening, I got a knock on the door and found my neighbour standing there with a massive box in his arms. I was a little confused by this as to be honest I'd forgotten the case was on its way so you can imagine the grin on my face when I realised what it was.
I was pleased to find inside the box a sturdy plastic case with sturdy plastic clips for keeping it closed. I have to admit that I spent longer than I should have trying to open the case as it turned out that it had four clips, not two like I was expecting. That can only be a good thing if, in the unfortunate event of someone trying to get in to steal your gear, hopefully they would be as daft as me and be stumped by the workings of the opening mechanism (ie. four clips, not two). If you don't want to rely on thieves being a little slow, there are also two points on the corners of the case where you can attach padlocks.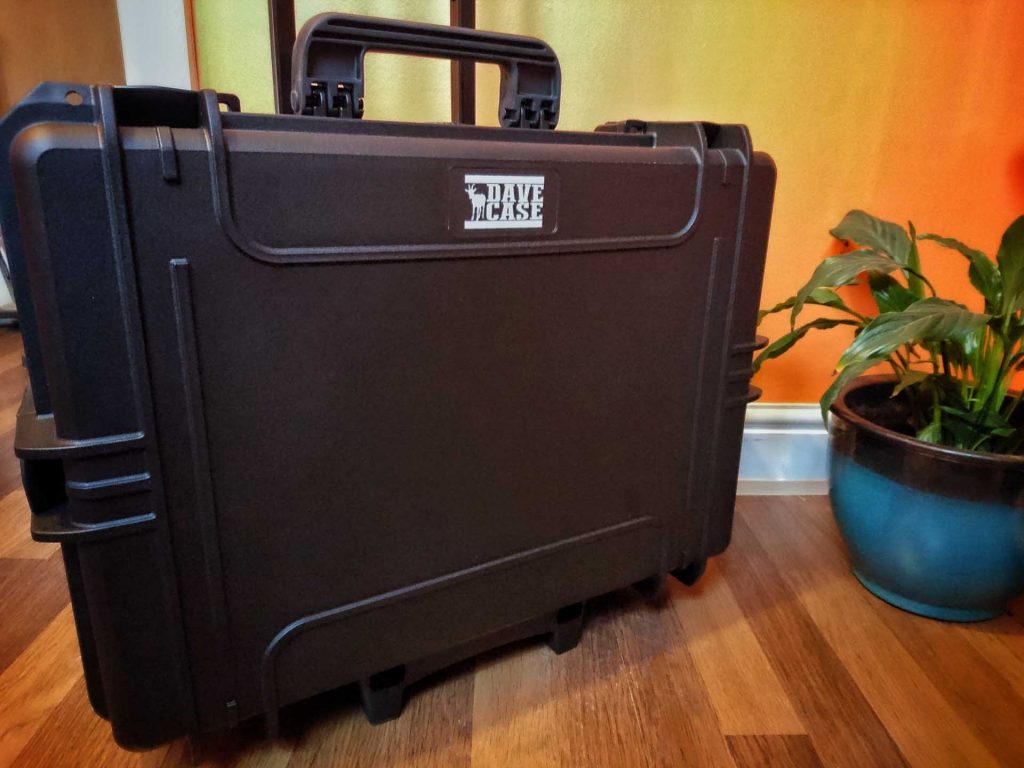 Inside the case there are plenty of dividers to organise all your kit and thick foam in the lid to ensure nothing gets knocked about in transit. I spent a good while configuring the dividers to accommodate all my kit, the main problem occurring when I realised that there were no dividers that could bend in the middle. This meant that making anything other than square configurations a little tricky. Square is fine when you're organising your lenses and other accessories, but cameras tend to be a little more triangular in shape. Eventually I settled on a configuration that I liked and that fitted in most of my kit.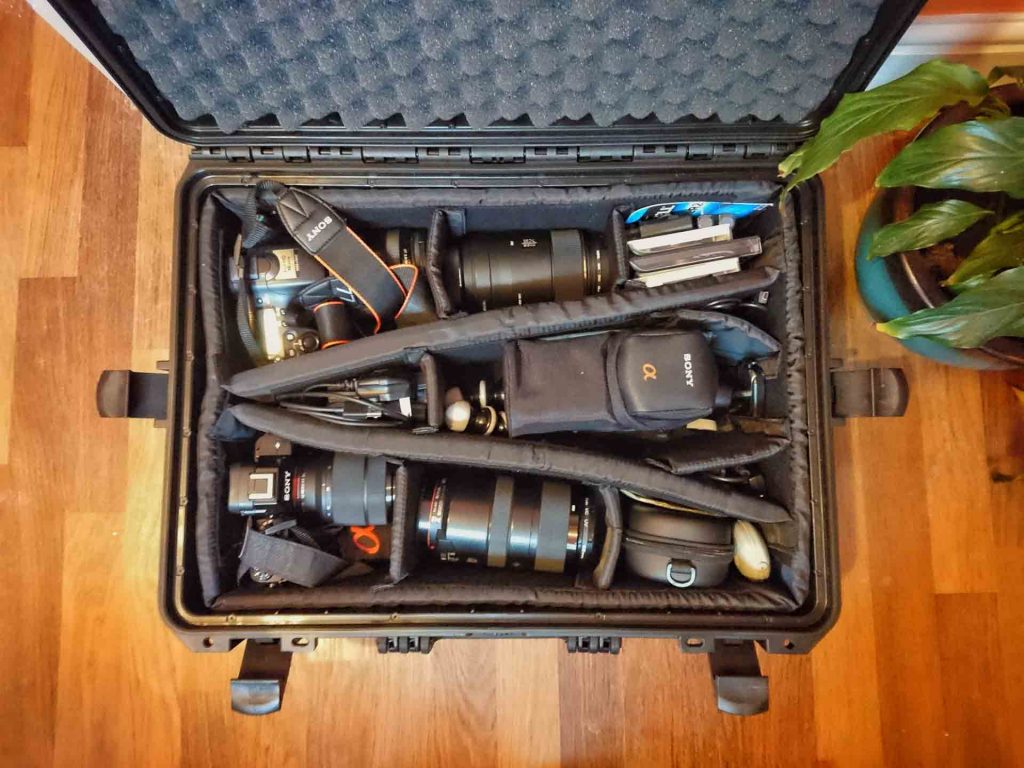 Once you've got everything inside, lock up, pull up the handle and trundle away on the two inbuilt wheels. The case purports to be hand luggage size, which looking at it seems to be true but then again I'm not sure I'd want to test this on Ryanair… The only other downside when it comes to air travel (not so much a problem on land-based modes of transport) is that the case weighs 5kg before you've even put anything in it. This is half of your baggage allowance before you've even packed anything else! When my camera kit weighs nearly 8kg on its own, the suitcase is getting dangerously close to being checked into the hold – not something I want to happen to thousands of pounds worth of equipment. But, I suppose this level of protection comes at a price, and that price is weight.
All in all I am pleased with this case, the build quality is great and it's easy enough to transport around. The only thing that I think it is really missing and I would like to see in future iterations of this case are the bendable dividers. But, when you consider the price, this is an excellent first choice for a hard camera suitcase.
And if you can't be bothered to read what I've just written, here's the TL;DR version:
Pros
Well made, hard case
Fully kitted out with dividers & foam padding
Water & dust proof
In-built wheels & handle for dragging it about
Able to lock with padlocks
Compact size but big enough to fit a decent amount of gear
Easy to use and transport around
Cheaper than most of the competition
Cons
At 5kg, it's quite heavy even before you've put any kit in it (but so is the competition)
Needs more flexibility in the dividers – bendy ones would be very helpful!
Not quite as versatile as some of the competition (some others allow you to remove the whole inside of the case as as a handy backpack)