This week my model friend, Cinzia, asked me to photograph her for her portfolio. The weather was beautiful; perfect for shooting and ignoring editing. Pomona has been on my "to shoot" list for a while, so we popped over to the re-wilded docks.
Pomona Wharf is an area of old docklands in the middle of Manchester. It has a rich history (you can read more about it on Skyliner's blog), but it is also an interesting place to shoot. Since closing in the early 80s, Pomona has been left to the wild. For photographers this is a rare opportunity as you can go from wild grasslands to urban graffiti in a matter of minutes.
Our shoot was scheduled for early morning to avoid the heat, but I overslept…
Pomona
Fortunately, Cinzia was there on time, so when I arrived (sweaty and panting), we headed straight into the scrubland to shoot. The morning was just what we wanted; the light was golden and soft and perfect for portraits.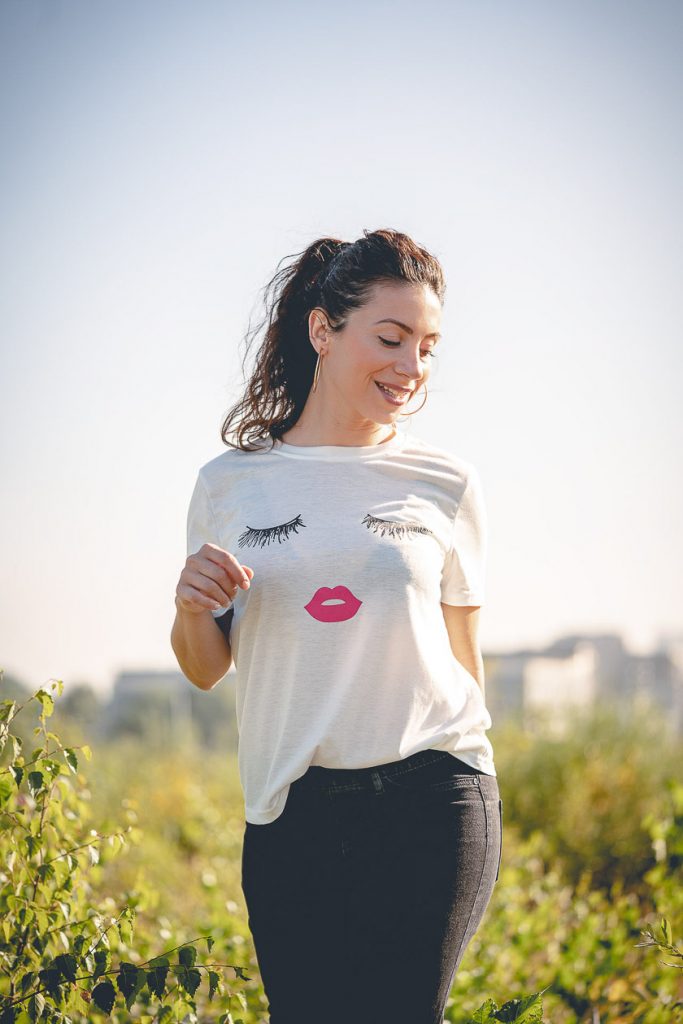 Shooting among the plants lets you get creative with depth of field and bokeh. When you shoot wide open (apertures of f2.8 or wider) you get a beautiful de-focused foreground and background. I got Cinzia walking in and out of the plants and perching on the many concrete blocks littered around.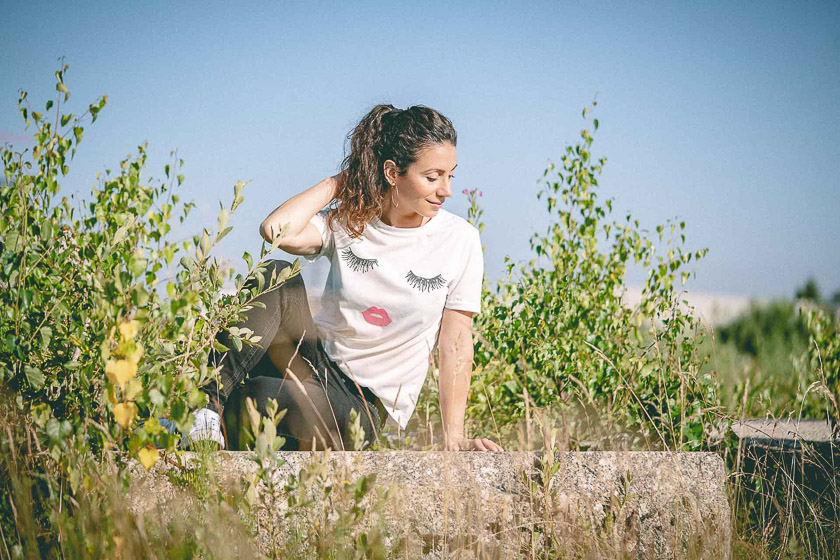 Two waterways border Pomona; the Bridgewater Canal and the river Irwell. On the canal-side, there are remnants of Manchester's industrial days such as the graffitied brick columns in the photo below. These are a great backdrop for urban modelling shots and add a lovely pop of colour.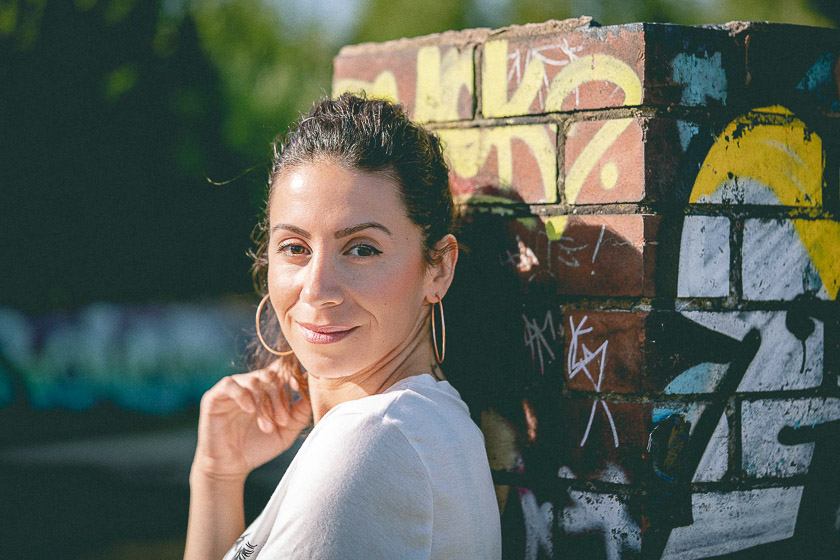 As you head towards the city you find the arches for the tram and railway. The arches used to be more accessible but are now car parks for the eyesore-block of flats nearby. Still, we found an empty arch where the light shone through dramatically, offering a great opportunity to play with shadows and highlights.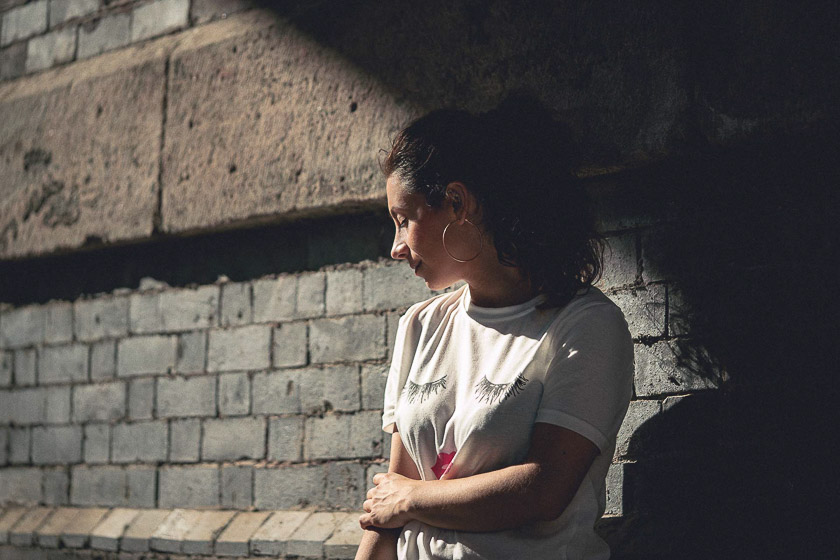 From the arches, it's a quick hop across the Irwell via a stunning, geometric green bridge to the graffitied walls of the towpath.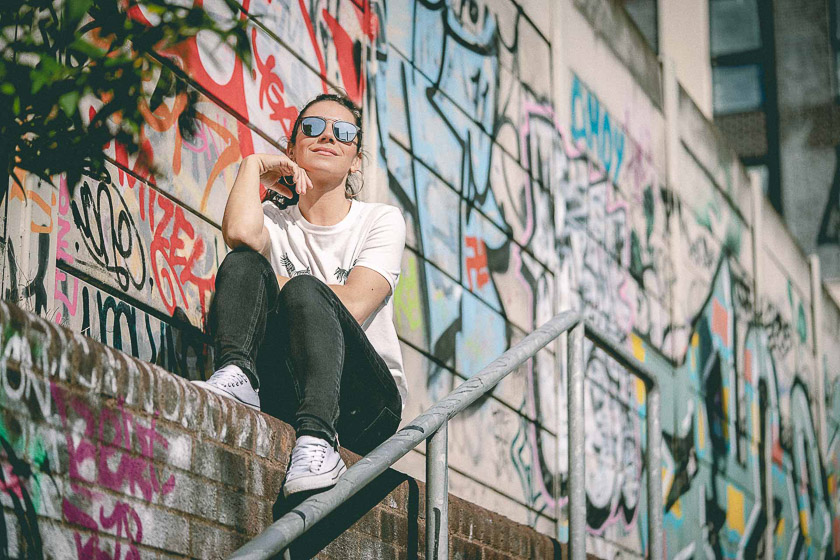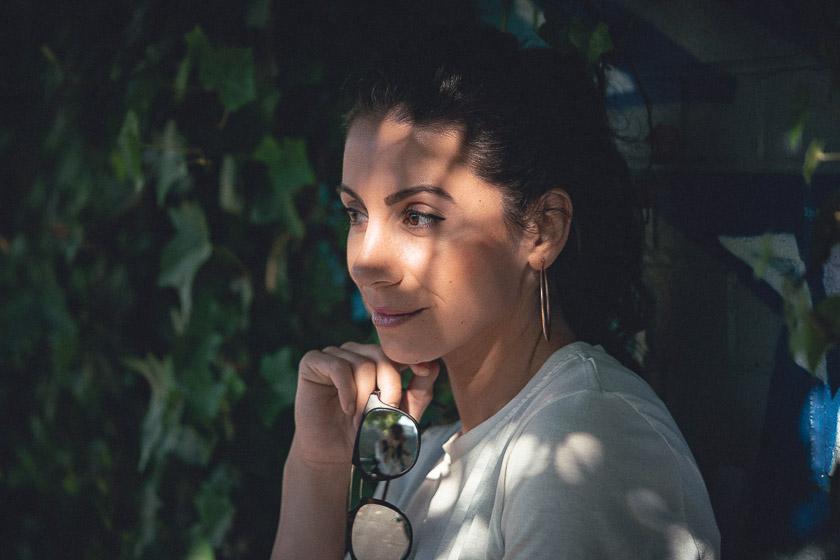 By this point it was almost lunch time (and I'd very nearly hit my 10,000 steps), so we headed back to the car. I'd parked near Pomona Metrolink station which is a super spot if you're working with a model. The colourful graffiti that covers the underside of the bridge is a perfect backdrop for photos.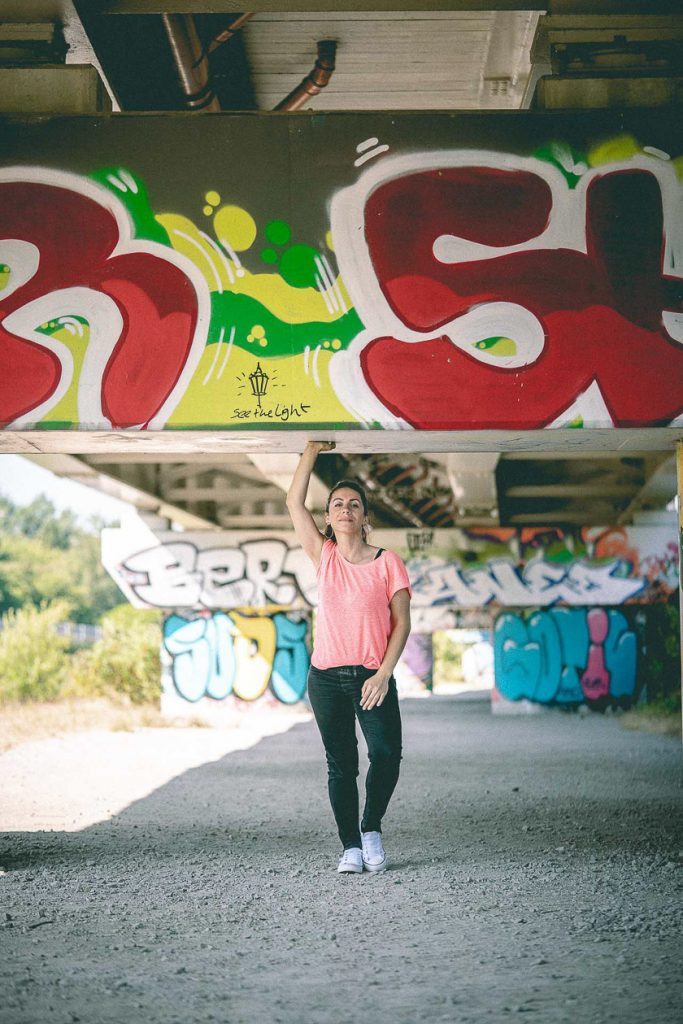 MediaCity
Time for lunch. We headed over to Media City for a bite to eat before carrying on our shoot. The quays are another great place to shoot with a model. The waterways, bridges and the stunning backdrop of the Imperial War Museum all add interest to your photos. Evenings are the best time to shoot at MediaCity. The lights of the buildings reflect in the quays and give you lots of options to experiment and be creative. We were there in the middle of the day, which isn't ideal, but we still got some shots we were happy with.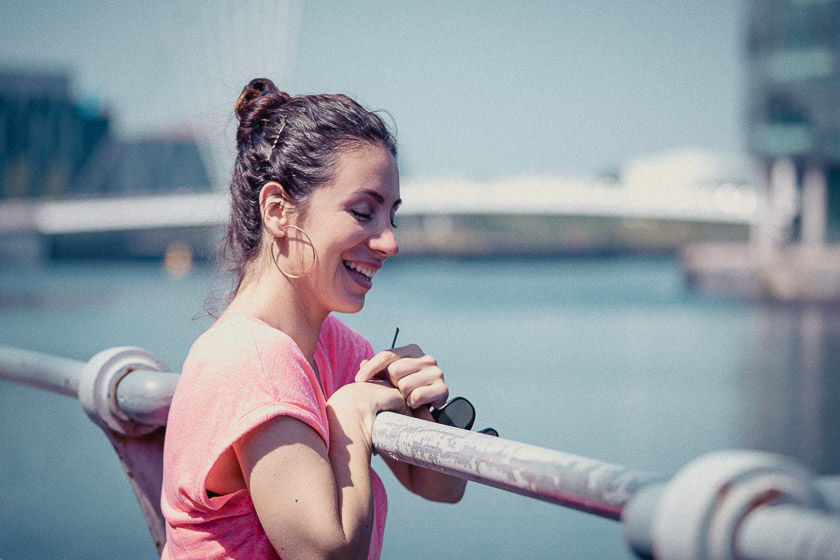 As the sun was high in the sky, and the temperature was soaring, we called time on our shoot. I had over 300 images from our morning out together and was starting to turn as pink as Cinzia's top. I am glad I got to shoot on Pomona before they redevelop it into flats and commercial space. I only hope they retain some of the character and history of the place.
The Kit
I travel light when it comes to kit. This is because I'm lazy and I don't want to carry more than I have to! For this shoot, I took with me:
Sony a7
Sony a7Rii
Sony 90mm f2.8 macro
Samyang 35mm f2.8
plenty of memory cards and batteries
Sony flash (just in case, but I didn't use it in the end)
This kit is perfect for shooting with a model, though I would like a slightly wider aperture lens to enhance the bokeh in my images.